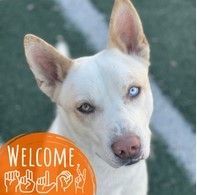 Tulok - Transferred from Longmont Humane Society
IHDI's trainers were drawn to him for further evaluation as he had great leash manners & skills, along with his reports of having done great with dogs, cats and looked to please his human companions.
During his evaluation at the Humane Society with the Hearing Dog team, Tulok showed great interest and confidence in investigating sounds, and was not startled easily. Tulok has an inquisitive nature, and was immediately interactive with the training team during the evaluation. We are so excited to welcome this handsome & well rounded boy into the program as a Hearing Dog candidate and look forward to seeing his life changing potential blossom!
Bear - Transferred from Humane Society of the South Platte Valley
Little Bear caught out trainers attention with his drive for human interaction & confident desire to be with our trainers. Bear was also noted to be good with all dogs, cats & kids, this is vital for a Hearing Dog candidate. During evaluation Bear was interested in each sound that was set off, from a smoke detector, a toy Fire Truck, timer, and so much more - he was eager to investigate each sound and learn more about it!
Bears size was also a desirable trait, as his size would allow for transportation ease for a client that travels frequently via airlines and public transportation. 
Dweezle - Transferred from Soul Dog Rescue
Dweezle caught our eye with her confidence in new environments along with her great disposition and her easy interactions with dogs, cats and people. 
Upon her formal evaluation with the Hearing Dog staff, Dweezle was highly interactive and energetic. She was interested in the sounds and investigating their source. In addition, Dweezle already had a great foundation with knowing several cues like sit, down, and shake - all of which she was very responsive to and motivated by food.