At IHDI, we keep faith with the public trust through the efficient, conscientious, and honest use of the resources entrusted to us and are always mindful that our mission is accomplished through the generosity of others. IHDI has a responsibility to our community and our donors. We act with integrity, honesty, and openness to earnestly fulfill our commitments. IHDI is devoted to being a conscientious steward of awarded funding, whether in-kind or cash, and leverages gifts strategically to notably contribute to IHDI's long-term sustainability and mission advancement.
Fiscal Year 2021-2022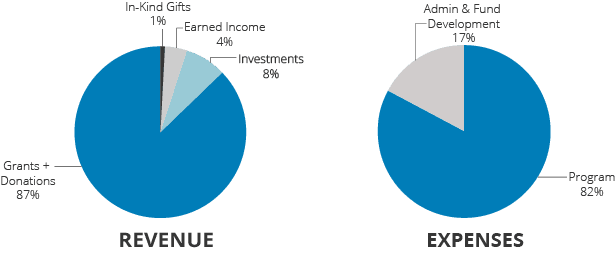 Funding Sources
As a 501c3 nonprofit, IHDI thrives ONLY through the generous support of a vast network of supporters. IHDI recognizes that it is essential that we successfully partner with many funders (foundations, corporations, and individuals), both long-standing and newly developed. We engage our donor base through a proactive grant funding strategy, online campaigns such as Colorado Gives day locally and Giving Tuesday nationally, ECHO our annual campaign, and social media campaigns. IHDI also participates in many local fundrasing events.
IRS Status
International Hearing Dogs, Inc. (EIN 84-0779444) is registered as a nonprofit corporation (since 1979) and qualifies as a tax-exempt organization under Section 501(c)(3) of the Internal Revenue Code.
Transparency
We are committed to being fiscally responsible, conscientious stewards of our resources, and maintaining sound business practices that are ethical and transparent. Therefore, we make readily available our most recent audit and 990 for review.
Charity Navigator Give With Confidence Rating
National watchdog group Charity Navigator has awarded IHDI with 100 out of 100 Give With Confidence rating. Learn more about this rating.
Candid Seal of Transparency
Candid's Seal of Transparency indicates that IHDI shares clear and important information with the public about our goals, strategies, capabilities, achievements and progress indicators that highlight the difference IHDI makes through our service. Review IHDI's Candid profile to learn more.