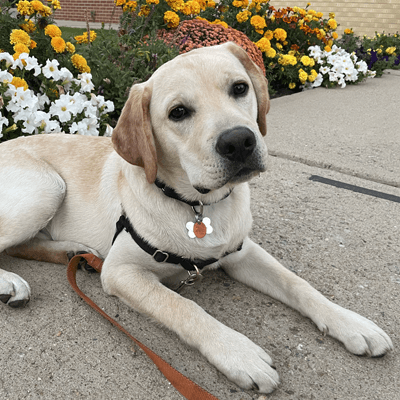 At IHDI, purposefully selected puppies are partnered with either prison or community-based volunteer Puppy Raisers who provide a crucial foundation through daily care, socialization experiences, and behavioral training (over 10 to 12 months) that puppies need to become future service dogs.
For our Prison Puppies, we work with the Wyoming Medium Correctional Institute in Torrington Wyoming for our PAWS'abilties (Preparing Animals With Service Abilities) Program. Our team of Master Handlers have been making tremendous progress with their pups. As our Master Handlers already had seven years of experience training rescue dogs through the prison's canine program, they bring a great deal of skill as trainers to their work with IHDI's puppies. Combine that with the high level of involvement, commitment, structure, and compassion the Master Handlers provide the pups, and it is the best recipe our puppies can have for successfully becoming hearing service dogs.
Another critical aspect of IHDI's Prison Puppy Program is our Weekend Puppy Sitters. Each pup is paired with a community volunteer who takes their pup on "furloughs" every other weekend; introducing them to a broader range of experiences and environments than the Master Handers can provide within the prison
Atlas, one of our prison pups. Atlas is a Golden Labrador Retriever. He is a loving, curious, confident, and playful fellow who LOVES to eat! Initially a slow bloomer, Atlas has made tremendous progress in the last couple of months and has a long list of cues he can be relied upon to respond to. Atlas is curious about just about everything. He will cock his head to the side to consider anything new – especially new sounds. Atlas' curiosity is an asset as he moves into more advanced training with sound alerts. Atlas and his Master Handler, James, have been making significant strides in Atlas' sound training. Atlas can already complete two-way alerts!
We are so grateful for our partnership with our Master Handlers. We believe they bring tremendous PAWS'abilities to our pups and our d/Deaf clients!