Jeff & Atlas: Exceeding Expectations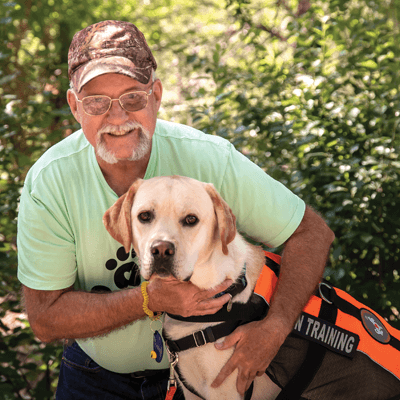 Born deaf, Jeff had no language through his early years. In his small Pennsylvania town, resources for the Deaf were scarce. His family, though, worked to fill the void with love, using gestures and play to communicate. Finally, Jeff found his way to a school for the Deaf, where he learned ASL and a new world opened up. Grateful for his family's dedication, he later honed his skills in welding, a gift from his father.
For three decades, Jeff worked as a welder, finding fulfillment in his craft. Yet, as retirement approached, a sense of isolation began to grow. His sister suggested IHDI. Jeff waited nearly four years for a hearing dog; however, he will be quick to tell you that the wait was worth it!
"Perfect!" Jeff signed, his eyes lighting up the first time he met Atlas, a gentle, patient, and comical lab. Raised by one of our Master Inmate Handlers from our PAWS'abilities Program at the Wyoming Medium Correctional Institute, Atlas has rock-solid obedience cues and sound alerts. Jeff exuberantly reports, "Atlas has exceeded every expectation I ever had for a hearing dog!" Jeff, who now works as a part-time school custodian, is thrilled that Atlas accompanies him, as he usually works alone until nearly midnight.
With Atlas by his side, Jeff navigates his work and personal environments with renewed independence and a greater sense of security. "Camping!" Jeff signs with excitement when asked what he is most looking forward to in the near future with Atlas. And next year, "Maybe even a cruise with Deaf friends!"