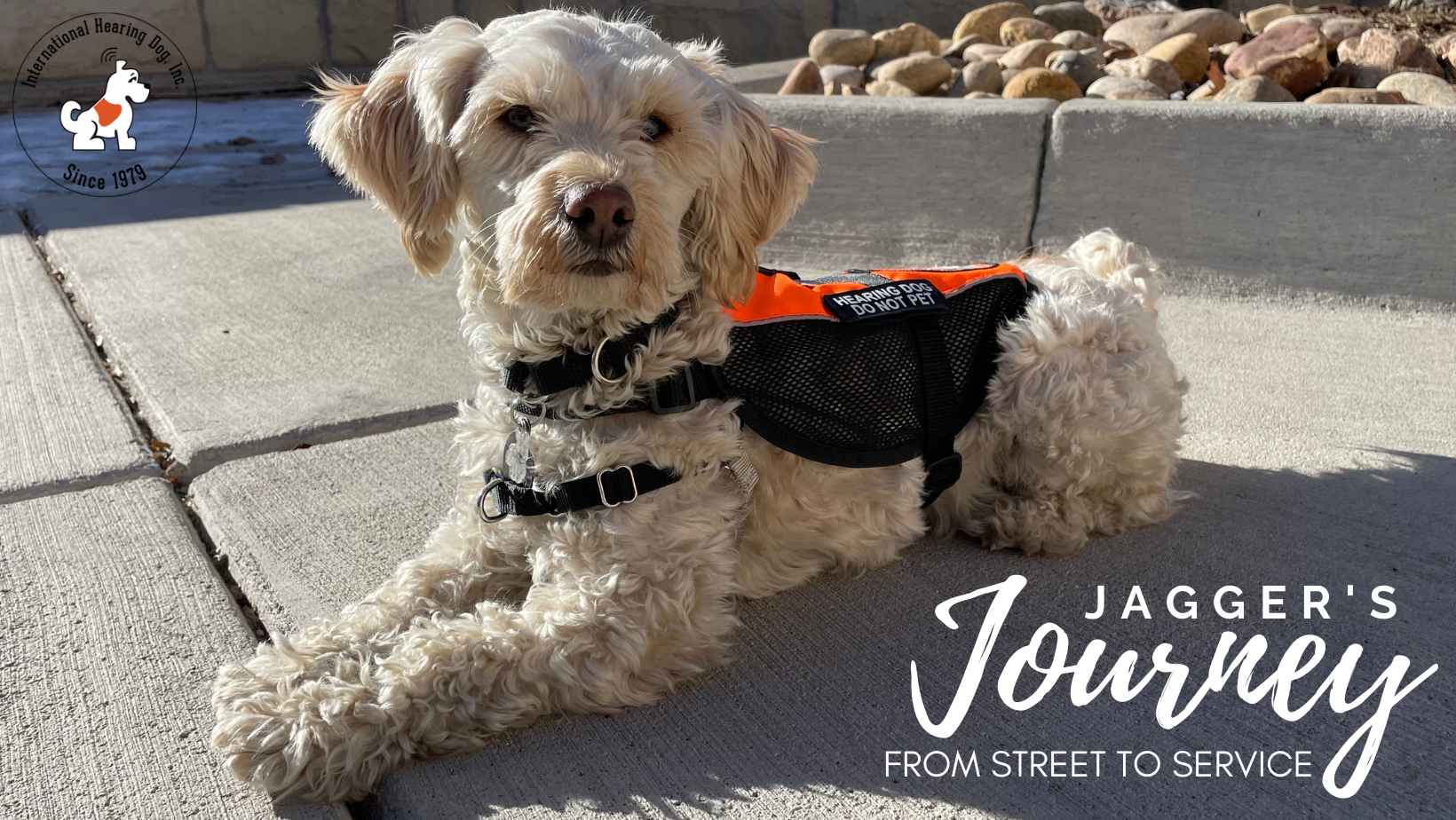 Welcome! International Hearing Dog invites you to join us over the next twelve weeks, across IHDI's email, website and social media platforms, as we chronicle #JaggersJourney, the incredible story of one shaggy little stray's amazing excursion from Street to Service. Each chapter of Jagger's remarkable journey will be released weekly on International Hearing Dogs social media pages, via email & chronologically on our website for your reading pleasure!
It takes a great deal of time, expertise, energy, effort and dedication on the part of many folks to nurture and train a service Hearing Dog. Every Hearing Dog is a Hero who makes their person's life safer, richer, and happier. Please join International Hearing Dog & Jagger's Journey as we campaign to raise $20,000 in support of the making of Hearing Dog! 
Part 1 of Jagger's Journey...
Where it all began…I still get chills when I remember it. It was late evening, and we were driving on a busy two-lane highway at about 65 mph when we suddenly see two little white puppies happily crossing the highway – oblivious to the pick-up truck bearing down on them from one direction and my SUV from the other. Thankfully, the truck and I were able to slam on our brakes just in time. I pulled over and we jumped out of our car – circling behind to see where the pups had gone. All the commotion had obviously terrified them. They laid down quaking as we approached them. My partner went to the smaller one and I went to the other. As I approached him, he rolled over on his back – completely submissive and violently trembling. I scooped him up and held him close… and that was the moment Jagger's Journey began.
In my arms, it became readily apparent that this little dog was in very poor shape – as was his "traveling companion". Both pups were dreadfully thin, matted and we could smell immediately that they had serious ear infections. Their coats were full of burrs and brambles, they had no collars or tags, and they were intensely "fragrant".  It was clear these young pups had – at best -- been living a life of neglect. And yet, shaking, they snuggled deep into our arms.
They came to my home that first night and I began to understand the depth of their lack of care. I suspect they had lived their lives to that point in some type of outdoor pen; it took almost half an hour to just get them to walk through my doorway. Once inside it was clear the inside of a home was completely foreign to them. Neither would eat from a bowl. In fact, the bowl frightened them greatly. They would only take kibble from the floor. A stuffed toy that squeaked sent them running for cover under a bookshelf. All sounds were startling. They spent that first night curled tightly together on a blanket, but they slept soundly, without a peep.
That was July 25th, 2020 and so much has happened since!
Part 2 of Jagger's Journey...
The next day we packed-up and headed to Hearing Dog. As we knew nothing about these pups, they needed to be in isolation, away from the rest of our dogs in training. We set up a little home for them in our Isolation Unit and began the process of getting them veterinary attention, fulfilling our obligations to try and locate their owners and, most importantly, working to help them feel safe and secure. That first day we knew them only as Boy Dog and Girl Dog. 
Our vet came to exam them the next day. Boy Dog and Girl Dog were underweight and dehydrated. The vet placed the little one, the female, at about six months. She had severe infections in both ears. The other, a male guessed to be about nine months, had a less critical ear infection. However, his most significant issue was the severity of his matted coat. He was matted from the tip of his tail to the tip of his nose, from top to bottom and every where in between. His matting was so extensive and thick that it was impossible to see any skin on any part of his body. And the matting was so tight that he would whimper when he was touched. His underside was so matted that his penis was matted to his belly, which meant he had been urinating on himself. As we began to get him cleaned-up we realized he had urine burns across his belly.
Boy Dog's mats were so extensive that none of our groomers felt comfortable working with him. At a lost, we turned to our Guardian Angel, Donna Harris, my long-term vet and a great supporter of Hearing Dog. Literally within minutes of me telling her the story of our little vagabond pups she was, clippers packed, in her car and headed our way. Donna was so wonderful with the little fellow. Patient and gentle, she persevered through a nightmare of a task. The little guy had to be meticulously shaved down to his skin all over his entire body. Inch by painstaking inch the pile of hair grew and grew. She would shave for 10 minutes and give him a break, repeating the cycle over and over and over until he was completely shaved and weighed nearly two pounds less than when it began. He lost two pounds in mats! Amazingly, through it all, the little guy was an unbelievable trooper. Such a painful and frightening process and yet he was brave and stalwart and unwaveringly amiable. An absolute Rock Star! So somewhere in the midst of that harrowing experience we dubbed the sweet fellow the King of All Rock Stars – Mick Jagger! 
Part 3 of Jagger's Journey: The big question...
For the next two weeks, while Jagger was on a Mandatory Hold, we concentrated on supporting him, slowly introducing him to the world, helping him build trust, and blanketing him with love and affection. At the end of his required two-week hold several things were abundantly clear:
No one was looking for this remarkable pup.

He was an exceptionally intelligent fellow.

His confidence was slowly beginning to grow.

He was one of the most delightful, sweet-natured, willing dogs any of us had ever had the joy to meet!
Jagger, and his traveling companion - who we had named Winnie which means Gentle Friend - were now free to take their next steps in their journeys.  Since both were energetic, happy, responsive, and affectionate by nature – all important qualities for a hearing dog - we asked ourselves the obvious question:
"Could these two little strays, who literally wandered into our lives, have what it takes to become a highly trained service Hearing Dog?" 
Evaluation time...So the day had arrived for our two rescued pups to be evaluated for their ability to alert to sound. Winnie was first. The doorbell rang; she never even turned her head. A siren? No, she was wandering the other end of the training room. Ducks quacking? Nah, she was busy pulling toys from the basket. Whistles? Nope. Car horn? Nadda. Smoke alarm? Dog dish hitting the floor? Dogs barking? No… No… and No…  What we came to learn was that the ear infections Winnie had arrived with were so severe that they had caused damage that had resulted in hearing loss. The hearing loss was not so extensive to interfere with her everyday life as a great companion dog; however, becoming a hearing dog was out of the question. 
Now it was Jagger's turn to be tested.
The doorbell? Absolutely! A siren? My goodness, how exciting another sound! Ducks quacking, dogs barking, car horns, whistles, smoke alarm, falling dishes, buzzers! 
With each new sound Jagger responded enthusiastically, with curiosity, and gave his full attention. At the end of the evaluation, we looked at one another with wonder. This amazing little pup, who we rescued literally inches from the tires of a truck, had just aced his sound test with astonishing ease, confidence, and accuracy. Let his training begin! 
What about Winnie? Have no fear! Our spunky, sweet "Gentle Friend" was adopted out into her perfect forever home as a companion--renamed Penny! The connection was instantaneous and Penny transitioned into her life seamlessly. She has a puppy cousin that she gets to visit and play in the backyard and has reached true celebrity with all the neighbors and friends. She has a plethora of laps to choose from and makes her rounds to visit all of her friends. She truly brings smiles to everyone who meets her! 
"Penny is absolutely fabulous. It's like she was made for me. She's the best thing that ever happened to me and she's so obedient and loving. She's got me hook line & sinker. I don't know how I ever lived without her. She's such a great little companion"
Part 5...To Foster He Goes!
You've heard the saying 'it takes a village' to raise a child, well the same can be said to raise a successful service dog -- especially one to which a home is an entirely new environment. And this is where our dedicated & life changing Foster, Kathleen, joins Jagger's Journey. 
As Jagger was a young pup and had clearly not had any socialization prior to joining us, we felt it would be important for him to spend some time in a Volunteer Foster Home. IHDI is deeply grateful for our wonderful volunteers who provide foster options for our dogs. The volunteer Fosters provide the dogs a home environment with all the routines and expectations of home living vs. kennel living. The dogs build solid house manners. Further, just by the nature of living within a family home, the dog is introduced to a wide array of socialization opportunities. Equally as important, our trainers receive critical information about how each dog behaves in a real home setting as well as out in the world with a "regular" person rather than a trainer. The feedback is a powerful tool as the trainers identify behavioral patterns and highlight areas that need training focus.
Jagger hit the jackpot with his foster, Kathleen. We were so delighted when she agreed to take on this extremely critical and demanding role for Jagger. It is a big commitment on every level – time, effort, and perhaps the biggest of all, a commitment of the heart. Jagger and Kathleen connected from their first meeting.  For Kathleen, Jagger's personal cheerleader from Day One, the first step was to build this little guy's confidence & teach him what being a dog is all about while continually monitoring his behavior, reactions and interest in his new environment all while supporting his basic needs and development as a young pup. 
Exploring the World Around Him...
Jagger hit the jackpot with his foster, Kathleen. We were so delighted when she agreed to take on this extremely critical and demanding role for Jagger. It is a big commitment on every level – time, effort, and perhaps the biggest of all, a commitment of the heart.
Jagger and Kathleen connected from the first meet. As his Foster, Kathleen knew, her first tasks would be to provide Jagger routine; help him feel safe and capable so his confidence would grow and begin his never-ending socialization. For any puppy socialization is very important as they are developing. However, for a Hearing Dog, socialization is crucial. Because Service Dogs must accompany their person everywhere, it is critical that a Service Dog is comfortable, accepting, and not distracted by, the world around them. Consequently, a huge first step in a Hearing Dog's training is socializing them with, and de-sensitizing them to, the world around them --  men, women, children, dogs, cats, bustling environments, bicyclists…. a never-ending list of people, places, and things. Because Jagger seemed to have come from a confined situation with no socialization, every single thing was new to him so Kathleen began his introduction to the World!
Part 7...He's Found His Voice!
As Jagger grew more confident and  comfortable, we began to learn he has a lot to say. He began to voice his opinions loudly and often. When on a leash, if his handler stopped to speak to someone, Jagger would grow impatient and begin to sound his discontent. Even his best dog friends would tell him enough is enough – ignoring him or walking away! Because a Hearing Dog must accompany his person in public as well as at home, a Hearing Dog must be able to keep his opinions to himself… translated that means waiting patiently with No Barking or Whining. The dog must be able to settle himself. The cue PLACE is used to help the dog learn to settle in an assigned spot and quietly wait there until released. As IHDI utilizes only Positive Reinforcement Training, the dog is rewarded when it responds to the Place cue. Initially the dog is rewarded frequently and will only be expected to maintain  being settled in his Place briefly. As his understanding of the request grows and he is better able to maintain Place, he is asked to remain, self-settled and quietly waiting, in Place for increasingly longer periods of time.
Clearly, we, and Jagger, had a lot to work on here!
---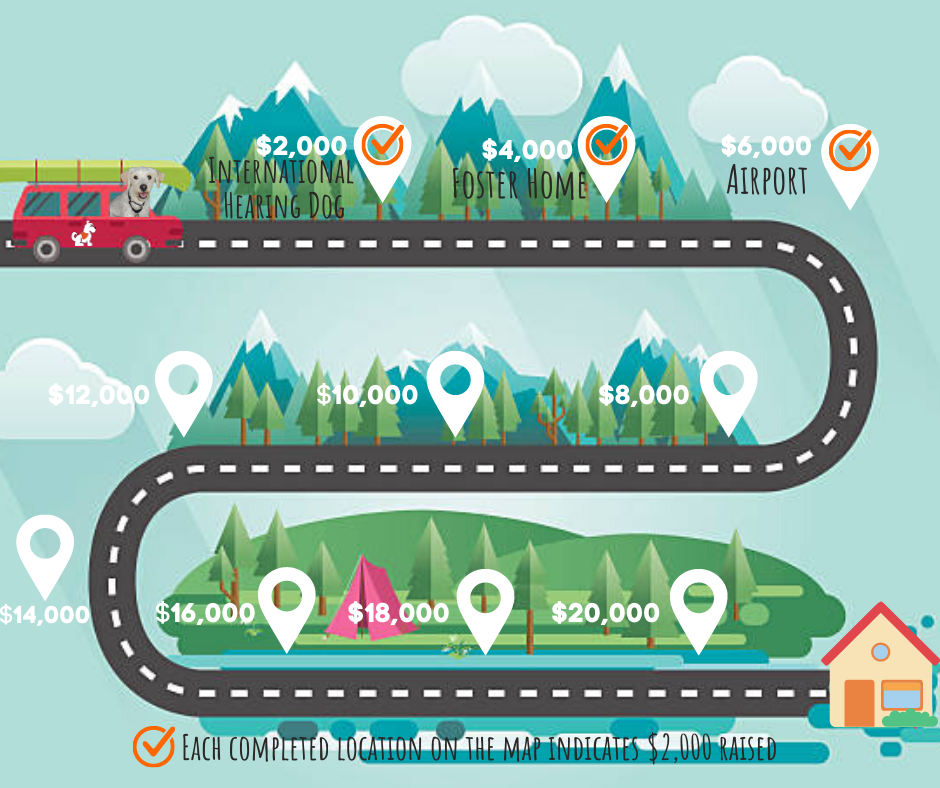 On behalf of the trainees, volunteers, staff and future clients of International Hearing Dog, thank you for your support thus far on Jagger's Journey and for following along on this remarkable little dog's story of one shaggy little stray's amazing excursion from Street to Service!
All donations made in support of Jagger even receive a paw stamp from Jagger himself as a thank you for funding his journey! What will Jagger's next stop be? YOUR support can help him get there!
---
Part 8: Focus on Handler...
Service dogs in public need to walk well on leash and pay attention to their partner so they are right with their handler if they're needed for work, like sound alerting. Hearing dogs must be able to work without being distracted Polite leash walking keeps service dogs out of the way of other people and away from dangerous things that may be on the ground. Learning to offer eye contact and attention takes time and starts at the very beginning of training, and helps the team stay connected. Foster Kathleen & Jagger can be seen below demonstrating that exact connection!
Part 9...
Not only do hearing dogs have to walk well in the heel position, they need to learn to be reliable even when surrounded by distractions and temptations!  In order for the hearing dog and handler to be a successful team, it is critical that the dog and partner have a solid bond. Consequently, a hearing dog should not demonstrate interest in, or garner attention from, other individuals. Jagger recently accompanied his Foster to the salon which provided a perfect training opportunity for Jagger to demonstrate his "Place" cue while ignoring all the new distractions, smells and people! This was also a great exposure outing for all that salons have to offer; the capes, multiple hair dryers, the silly smells and lots of activity! 
"Leave it" is the cue to remind the dog to ignore things that a dog may typically find interesting. Here at IHDI we use it to tell the dog to ignore other animals, food, objects, smells, and people. This cue is also very important for a dog's safety in ignoring and leaving potentially harmful items they could come in contact with while in public. In these photos you can see Jagger demonstrating his "Leave It" cue--even when tempted with a delicious dinner right in front of him! How do you think he did?!
Planes, Trains, & Automobiles + So much more..
Can you think of a memorable trip - long or short - with a best friend? Jagger can! A Hearing Dog must be able to appropriately accompany their person everywhere and travel with ease. Jagger took to travel well and has become a Stellar Traveler whether that be in his dog car seat, at the airport, or on the hiking and ski trails! When traveling in the car, due to his small size, Jagger is buckled up in the back for his safety. We promise, he will be the best back seat driver you could ever ask for!
These new environments & ways of travel are built into a Hearing Dog's training curriculum to help ensure a safe & stress free travel for teams regardless if it's by air, foot, or wheels! During these outings Jagger experiences, and grows comfortable with, rolling suitcases, trucks driving past, the hustle and bustle of a busy airport, escalators and elevators, trains and overhead sound systems saying loud messages like "the doors are closing", crowds of people in smaller spaces, car washes, gas station stops… the list goes on and on. We will try to introduce and de-sensitize Jagger to the vast array of lights, sounds, smells and experiences he is likely to encounter as he travels with his person throughout their world.
Work hard, play hard!
It can't be all work and no play! Though even "play" is building on Jagger's training as he continually gains confidence while exploring this great big world!
Jagger is gearing up to be the perfect adventure companion as he & his Foster Kathleen add mountain biking, cross country skiing, snowshoeing, hiking, camping and so many more outdoor activities to his outdoor resume!
A special thank you to our Sponsors for their support of Jagger's Remarkable Journey!
Thank you to our Jagger's Journey Sponsors!