Sign up for our Email Newsletter to stay on top of Upcoming Events
K9 CPR & First Aid Class - Benefiting IHDI
Saturday, November 23rd from 10:00am-3:00pm 
at IHDI headquarters 5901 E 89th Ave Henderson, CO 80640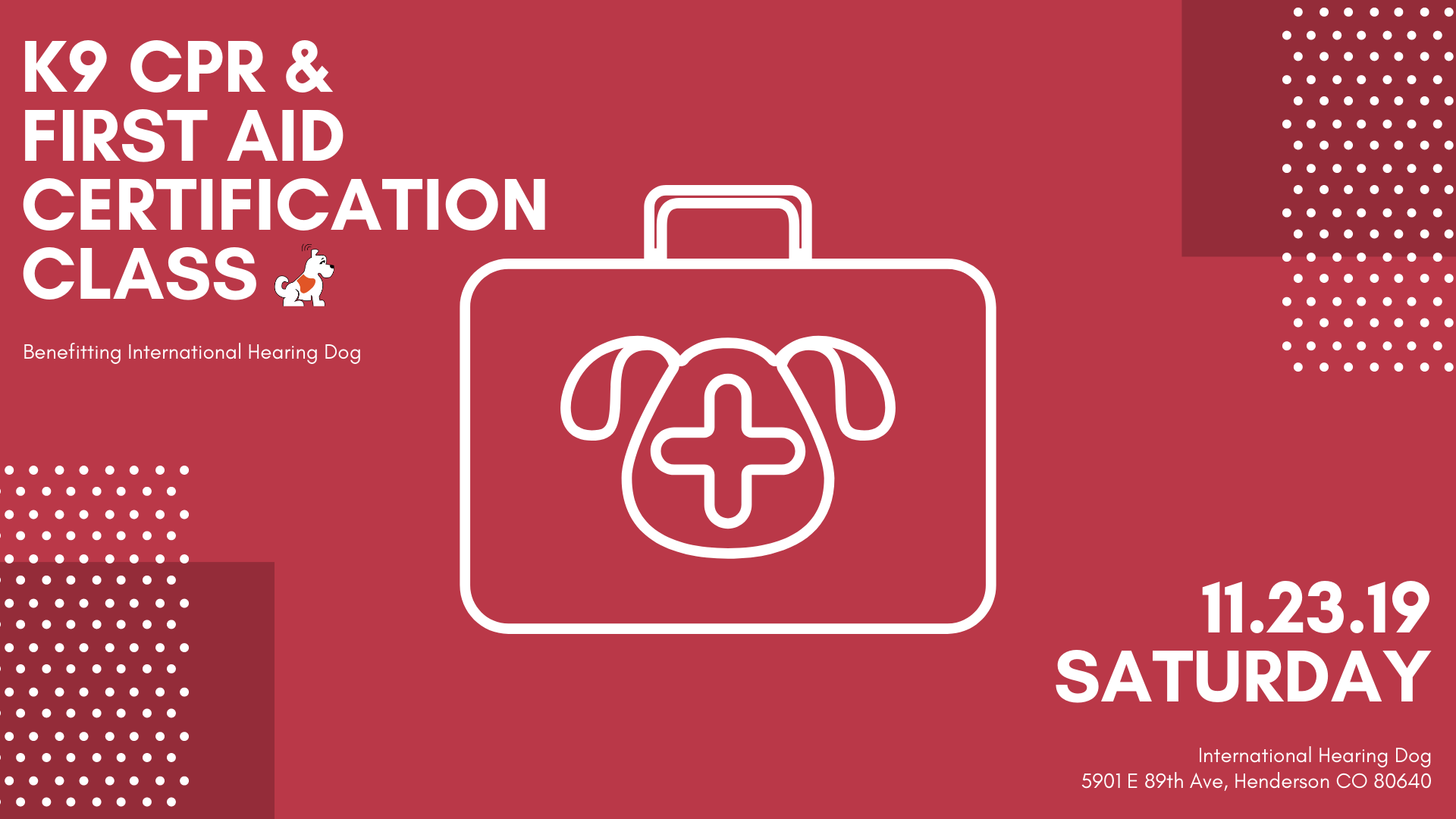 Join International Hearing Dog at our facility on Saturday, November 23rd from 10:00am-3:00pm for a K9 CPR & First Aid Certification class benefiting IHDI. This in-person class includes 5 hours of instruction taught by paramedics, a LIFETIME Certificate upon completion, hands on skills, coverage of over 20 first-aid items, top of the line manikins, and a free copy of the K9 Medic book. The class will be hosted at International Hearing Dog, located at 5901 E 89th Ave, Henderson CO 80640. Please note, snacks will be provided but a full lunch will not be supplied.

The K9 First Aid and CPR course is designed to give the pet lover, dog enthusiast or pet professional the necessary information and skills to stabilize an injured animal until qualified veterinarian care is accessed. Whether you are new to dog ownership or a long time friend, EMS provider, have a puppy, or care for a senior dog; regardless of your situation, your dog is precious to you! You only want the best for your dog, just like you want the best for every member of your family and this class will give you the necessary skills and knowledge to ensure that safety!

The K9 First aid and CPR program started in 2009, since then they have trained and prepared over 2,400 dog owners, lovers, and volunteers. This specific class focuses on teaching students how to provide care to an injured dog. Class content covers over 20 topics including splinting, bandaging, how to control bleeding, snake bites, how to preform the Heimlich on a choking dog, bloat, CPR and so much more!Not only will this class provide you with life saving skills for our four-legged friends, but you will also be supporting International Hearing Dog and our life changing mission! K9 CPR will be donating $25 from every students registration back to IHDI!
#GivingTuesday
December 3, 2019 
Donate to International Hearing Dog on one of the biggest days of the year for non-profits across the nation!
Giving Tuesday refers to the Tuesday after U.S. Thanksgiving in the United States. It is a movement to create an international day of charitable giving at the beginning of the Christmas and holiday season. When donating, share the word on all social media sites by using #GivingTuesday and show your love and support for hearing dogs internationally by using #TrainingOtherEarsToHear and #FromShelterToService
Colorado Gives Day
Donate on December 10th, 2019 through ColoradoGives.org/IHDI/overview and have your dollar go further to help International Hearing Dog!
Check out our page for more information on what Colorado Gives Day is and when you can start planning your donation to IHDI!
'Cookies for the Canines' Fundraiser
Thursday December 19th, 2019 at My Make Studios in the Edgewater Public Market
Exact address to be announced as they are moving to their new location beginning of December.
Join International Hearing Dog at our "Cookie for the Canines" fundraiser in partnership with My Make Studios at their new Sloan's Lake studio location on Thursday, December 19th to create the most "fetch" holiday cookies in town!

Join My Make Studio instructor, Mikaila Riehm for this Holiday Cookie Class! Create your own holiday masterpieces that look professional! All ages welcome, children under the age of 12 must be accompanied by an adult (no additional charge). Reservations to the class are required. 25% of the class proceeds will be benefiting International Hearing Dog, so don't miss out on a great night out and helping an amazing local group!
Follow the below link to get a sneak peak at the cookies we will be creating & reserve your spot in class today! We can't wait to see you there!
Check out My Make Studios website